Racing Syndicates
If you have always wanted to own a well-bred quality racehorse with a top National Hunt yard, then purchasing a share in a Kim Bailey Racing Syndicate is the perfect way for you to fulfil your ownership dreams.
Owning your very own racehorse can be expensive, that is why Kim Bailey Racing Syndicates have been developed to allow enthusiastic owners an opportunity to be involved in very promising racehorses at a more affordable level. Another advantage of joining a partnership is being able to spread your risk. Rather than buying a horse outright you can purchase a number of shares in different horses giving you more opportunities to go racing and have winners!
For the latest syndicate horse with shares available please click here
I believe this is the most cost effective way to racehorse ownership. By joining one of my exclusive partnerships you can enjoy all the privileges of being a racehorse owner without incurring all the costs" Kim Bailey
You know the feeling of excitement and nervous anticipation when you go racing. The atmosphere around the parade ring, the famous people, the horses eager to race, the enthusiastic crowd and the sensation of cheering home the horse you have backed. Well, can you imagine the euphoria if you actually owned that horse? It is an experience that is difficult to express in words but one you will never ever forget.
Now you have an amazing opportunity to experience this emotion for yourself by purchasing a share in a Kim Bailey Racing Syndicate, an easy and beneficial way for you to become a racehorse owner.
A simple fixed monthly payment covers all training and racing expenses, so you know exactly how much ownership is going to cost. Also, we take care of all the administration, leaving you to enjoy all the privileges of being a racehorse owner.
When Kim and Peter decided to launch racing syndicates at Thorndale they agreed that they did not want to buy the cheapest horses available to syndicate but would rather purchase quality stock, giving you a better chance of success.
This has already proved effective with syndicate runners and winners at all the top meetings including Ascot, Newbury, Aintree and the Cheltenham Festival.
A lot of research is undertaken before purchasing and deciding on which horse to syndicate. Obviously we always have an eye for value, so you will find that each syndicate varies in price depending on how much the horse cost.
The majority of the syndicates consist of 10 owners, giving you a significant share at a reasonable price. However, if you prefer a larger stake you can purchase more in multiples of 10% enabling you to join a smaller syndicate. If we feel it will be worthwhile, especially with a higher priced horse, there may be the occasional syndicate with the maximum of 20 owners.
Unlike other partnerships the Kim Bailey Racing Syndicates have their own identity, therefore:
You own the horse
You name the partnership ie. Ace in the Pack Partnership
You choose the racing colours
You also decide on a name for the horse (if un-named when you purchase your share).
Your partnership has its own bank account
You can visit your horse at a convenient time 7 days a week with family and friends
You receive 2 racecourse badges every time your horse runs
The duration of each syndicate differs but generally it is for an initial period of 2 seasons, after which, you will decide whether you wish to continue for another year. It requires 70% of the syndicate to agree to continue, otherwise the horse will be sold at the next suitable sale. If just a couple of owners want to sell, we will have the horse independently valued and the remaining owners will absorb the leaving shares at that value. This would normally be covered by prize money. If the decision is to sell, once sold, the partnership will be wound up and accounts produced. You will then receive your percentage share of the sale proceeds, prize money and any surplus over expenditure.

Imagine being able to come to the stables with family and friends to watch your horse on the gallops, follow its progress on the schooling grounds, go to the racecourse as an owner, seeing your horse's name in the Racing Post, national press, race cards and being mentioned on television. It really gets the pulse going and this is before the horse has actually raced!

When you hear 'they're under starters orders and they're off', the horse will not be the only thing that is racing but your heart will too. Watching your very own racehorse jumping is really exciting and exhilarating, there is just no better spectacle.

Call Peter Kerr now on 07901 763643 to find out more about our latest available partnership horses.
Peter Kerr - Partnership Manager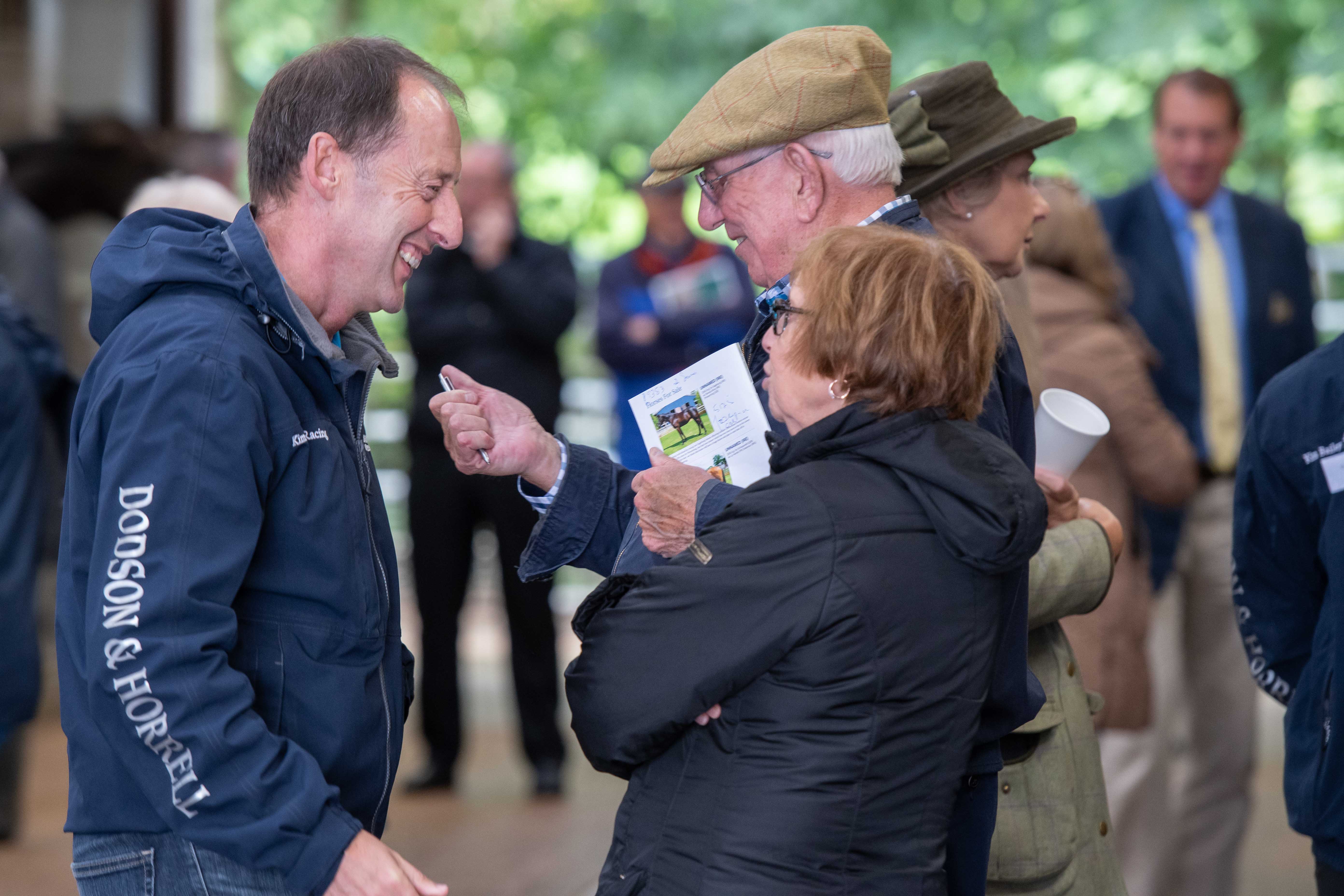 I have been involved in syndicating racehorses for over 20 years and in that time I have successfully helped hundreds of people from all backgrounds achieve their dream of being a racehorse owner.
Having been an owner myself I understand the nervousness and apprehension you have when taking your first tentative steps into owning your very own racehorse. Many of my previous owners thought that racehorse ownership was an exclusive domain preserved for the rich and famous, this is not the case as there is now an opportunity for everyone to get involved with Kim Bailey Racing.
Thorndale farm is a wonderful place to train racehorses and I have been very impressed with both the set up and the dedicated staff. I hope I can match their professionalism in looking after you, keeping you informed on your horse's progress and making sure you have an enjoyable association with the stables.
"I have been involved in other stables before but none match the friendliness, professionalism and excellent communications provided by Kim and the team at Thorndale Farm.

Irrespective of being a single owner, or a member of a partnership we are all treated equally thereby ensuring that everyone connected with horses in the yard experiences the same involvement, excitement and thrill of National Hunt Racing at a cost to meet your own specific budget.

My involvement in Thorndale has not only provided me with lots of precious racing memories, but has also given me the opportunity to make lasting and valued friendships with likeminded people, and would therefore recommend anyone considering getting involved in "jumps racing" to give Kim or Peter a ring and share the "Thorndale Experience" for yourself."

Vince Burmingham

(Arthur's Sixpence, Knockanrawley, Commodore Barry, Silver Kayf and Subway Surf)

"We just wanted to thank you for such an excellent day Saturday, Silver Kayf ran a blinder, he is a very exiting horse. The whole day could not have gone better, with the added bonus of the upper box, we have had such enjoyment since joining you at Kim's everything is run so well and we are always made so very welcome when we come to the stables, also we are so lucky that the others in the partnership are all super people we look forward to meeting up, thanks once again to all at Kim Bailey Racing."

Steve & Chris Adams

(Silver Kayf and Pond Road)