Chasing For Charity - An Overview
Kim Bailey Racing has been inextricably linked with raising funds for good causes for over ten years.

Why charity?
Kim and Henry Kimbell, an owner at the yard and with longstanding experience of working in charity fundraising, have joined forces to create the concept 'Chasing for Charity'.

For 2015/16 there is a new partnership operating under the Chasing for Charity banner with Maggie's Cancer Centre in Cheltenham. For further information about this please click on the above link.

The broad principle is to allow owners, new and existing, to experience the reward of racehorse ownership in up to two racehorses at a time with the added satisfaction that your involvement will directly and positively impact charities who are providing key services – from emotional support to medical research – for individuals, families and groups of all sizes who are most in need.

In short we believe this name narrates an integrated professionalism combining the exhilaration of racehorse ownership and the constant restlessness of philanthropic individuals wanting to support good causes in new and dynamic ways.

• 77% of consumers are more likely to buy a product that supports a good cause1
• 60% believe brands should promote good causes to help raise public awareness
• 56% have more trust in a brand that is ethically and socially responsible
1 Mintel 2000

Past form
Guy's and St Thomas' Kidney Patients Association, Help for Heroes, Kidney Research UK, Maggie's and Spinal Research have benefited from over £100,000 generated from partnerships and syndicates owning racehorses uniquely designed to raise funds and awareness for a variety of charities.

According to the Charities Commission over 165,000 are registered within the UK. At a time when the charity market is becoming increasingly saturated the need to diversify a fundraising ask or to develop a supporter relationship in alternative and progressive ways is becoming more vital than ever.


Charity benefits

Charity partners will receive:
- New recruitment and promotional opportunities to develop existing supporters and re-engage with prospective donors
- Innovative fundraising method which is low risk with generous returns
- A percentage of each share price donated to your cause along with a variable contribution of up to one fifth of any prize money and re-sale value of the horse(s) at the end of the agreement
- No financial outlay for the charity
- Partnership Manager to work alongside the charity on the recruitment of owners, media opportunities and organisation of racedays and yard visits
- Positive media spin offs to promote ongoing fundraising campaigns and a unique opportunity to work in partnership with celebrities/ambassadors
- Branding on the jockey's silks, Kim's website and through print and digital media
- You will have the chance to organise bespoke visits for the partnership members to view any local or national projects



Now this is undoubtedly putting
the FUN into fundraising!

Interested? Then contact us!

If you feel a cause you are connected to could benefit from being associated with a charity racing partnership at Kim Bailey Racing then please make contact with Henry Kimbell.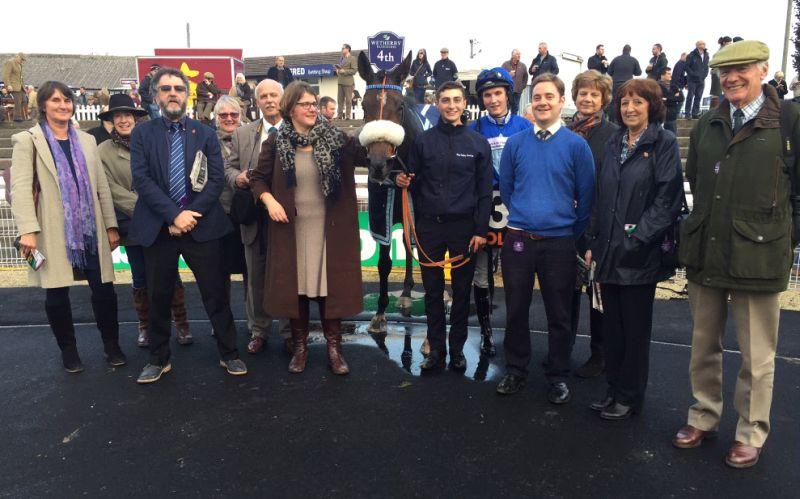 A happy team of owners after Allez Encore finishes fourth in the OLBG Listed Mares Hurdle at Wetherby, on Charlie Hall Chase day, in November 2015
Henry, whose family has owned horses with Kim for over twenty years, has successfully managed the last two charity partnerships. He has spent much of his working career in fundraising and with a long term love for the sport having the chance to combine these two interests in the most innovative ways is hugely exciting!

Henry Kimbell M: 07979 522744 or E: henrykimbell@hotmail.com

Charity Partnership 2014-2016 – GSTTKPA Charity Partnership

The most recent Charity Partnership came to an end in May 2016 benefiting the Guy's and St Thomas' Kidney Patients Association (GSTTKPA)

Target: £10,000 Actual amount raised £12,000

Where the charity donations directed?
The funds raised supported grants for dialysis and transplant patients to enjoy social and sporting activities - including day trips to the seaside and competing in the Transplant Games, an annual 'Olympics' for organ transplant recipients.

Something many can't consider because they are unable to work, develop their independence and even socialise due to the limitations of their illness.

Sadly kidney disease is on the rise and whilst kidney transplants are lasting for longer than ever before - much more needs to be done.

Allez Encore, King Simba and Magic Money all won and paid their way in supporting this superb cause.

Thank you to John Alley, Jenny Broomfield, Jane Clark, Ian Dodds - Smith, Julia Duff, Helen Duquenoy, Simon Ellen, Rosie F-D, Veronica and John Full, Rachel Hilton, John and Sue Humphries, David Kimbell, Alan Mclellan, Sue Murphy, Rodney Offer, Helen and Simon Polito, Suzanne Proctor, Emma Stewart, Chris Straghalis, Roy Sugarbread, Roz Whiteside and Colin Wigmore for your support!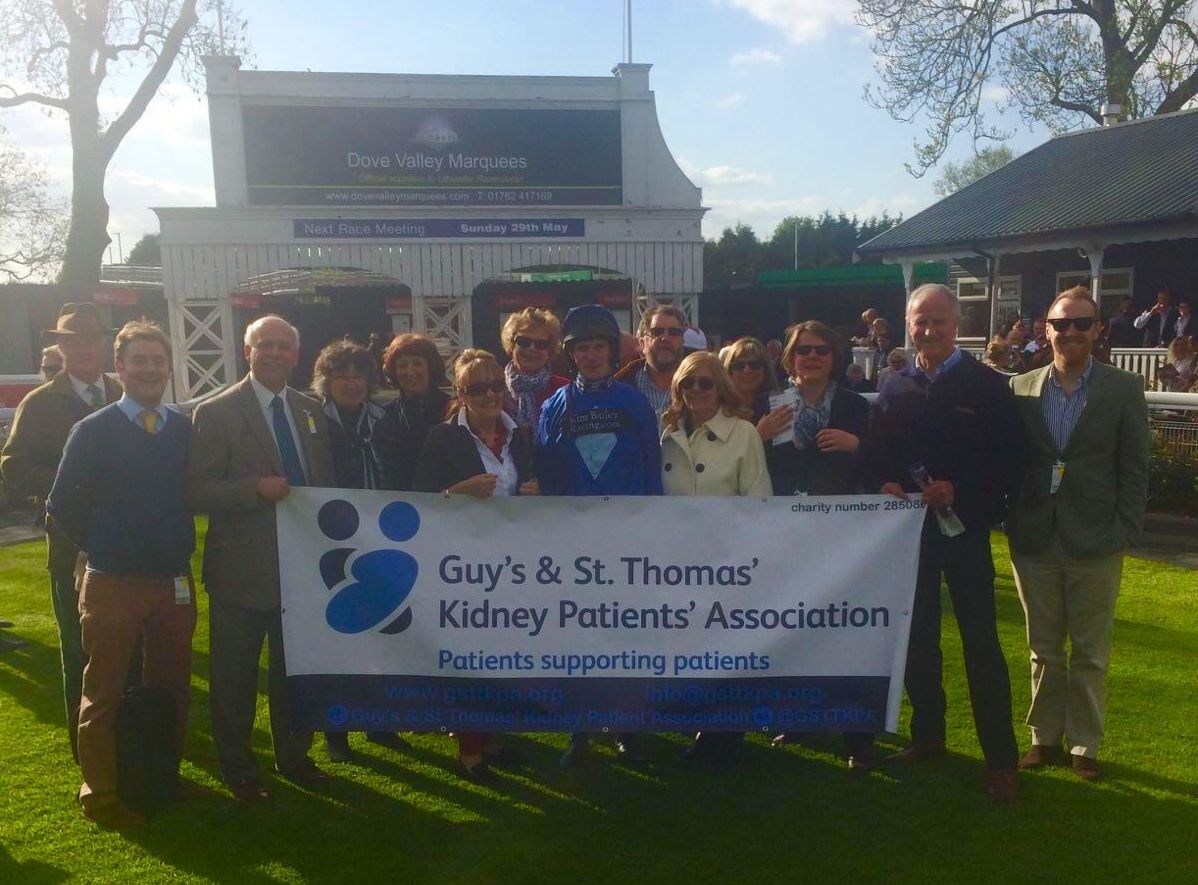 Members of the GSTTKPA Partnership celebrating the end of another successful season with jockey David Bass at Uttoxeter in May 2015